Scroll down for USB duplication hardware or select the category above.




USB Duplicators Provide Effortless Data Distribution

USB flash drives are invaluable tools in nearly any company, making it easy for anyone to carry large amounts of data in a device small enough to fit on a keychain. The problem in the past has been finding ways to copy that data to multiple flash drives but wide availability of inexpensive USB duplicators removed that obstacle.



Flash Drives Become Invaluable Tools



Flash drives have found a range of uses in today's business world. IT personnel can carry a library of diagnostic software allowing them to work on computers that aren't connected to the network. Employees who divide their work time between traditional and home offices always have the documents they need. The drives can provide quick and easy backups and are easier to store than external hard drives.

As flash drives have come down in price, they have filled the role of disposable media that floppies, CDs and DVDs have previously held. Their small size and large capacity make them ideal for disseminating large amounts of data. For example after a multimedia marketing presentation has been shown at a conference, copies of the presentation can be handed out to clients so they can re-examine it later.



The Problem of Data Overload



The capacity of flash drives that has made them so useful has also made them hard to duplicate. Manually copying files to a drive is fine for one drive, but what about 50 or 100? Early drives with small capacities were quick to copy, but with flash drives now at 16 GB, 32 GB or more the copying process takes longer. It soon became clear that businesses needed a mass copying solution and that's where USB duplicators came in.

The idea behind the duplicator is the large scale production of copies of a master flash drive. The master copy is inserted along with the blank target drives. With the push of a button, the data is simultaneously copied to all targets. Some USB duplicators are standalone devices, requiring no computer for their operation.



USB Duplicators Get Bigger And Cheaper



Early duplicators were nice in theory but were very expensive and could copy only a few drives at a time. While they were useful to some companies, they served only a small segment of the market.

Over time the technology improved and prices came down. USB duplicators that used to cost thousands of dollars can now be found for less than $700. The number of simultaneous copies has skyrocketed, with the largest duplicators able to copy over 100 drives at once.

Flash drives combine high capacity, durability, portability all at a low price. They are going to become even more prevalent in years to come and as they do, USB duplicators will be an integral part of most businesses.

Fake Memory

Something to be aware of is "fake memory" on a USB drive from a less than reputable vendor. Fake memory will report back a larger memory amount than is actually on the drive. You may not know you have fake memory until you actually try to use all the memory on the drive and it either fails to copy, fails to compare or doesn't work. Sometimes these drives simply overwrite themselves repeatedly during the writing stage so there's no error, but when you look back at your data only the last part is actually on the drive.

Some duplicators have a function that will check for this fake memory in a drive in their utilities. A common hack is to create media that LOOKS like a brand name stick but use fake memory instead. Customers often blame the duplication hardware when it fact, it's a bad stick. If the price of the media you're buying seems like a great deal, watch out for this common deception. Buy from a reputable source such as CD Solutions who stands behind the media they sell.

USB 2 or USB 3 and COB versus UDP

We're often asked how you can tell if a drive us USB 2 or USB 3. Take a look at the pins in this picture. USB 3 will almost always be blue in color.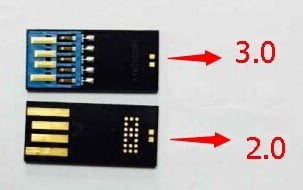 There are different types of USB drive as well. There is COB which stands for Chip On Board, where the memory and controller chip are mounted onto a small electronics board, and there is UDP which also has the chip built directly into the card. While slightly slower than COB it's more durable, smaller, and in some cases even waterproof.

USB Chip and Drive Utilities
There are a few utilities that we recommend for those who have a need to know detailed information about their USB drives and USB controllers including the USB chip information from the drive. One of those utilities is USBDeview from NirSoft. Another one is ChipGenius. Which tool is the best to use depends on the information you're looking for.